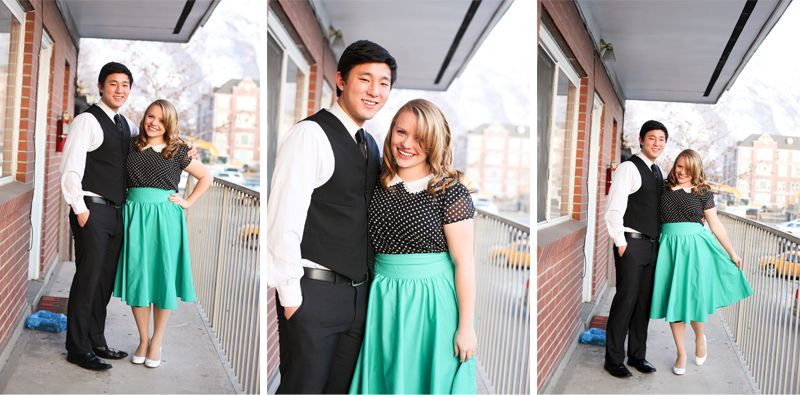 Three years ago, I got this perfect teal dress for a 1950s costume night was my roommates. It was one of those finds at the Rexburg D.I. when it seriously feels like you have won the lottery. When I had the chance to go back home, I took the dress with me so that I could turn it into a much more flattering skirt. Let me just tell you if you could see the inside lining of it now you would NOT be impressed by my sewing skills. But I loved the skirt very much.
I wore it to the very first weekly swing dance at BYU-Idaho of the Winter 2011 semester. It was pretty much the best thing for swing dancing
ever
.. circle skirt + spins (+ leggings underneath VERY IMPORTANT) = fabulous. So fabulous that it caught the attention of a certain recently returned RM who saw the awesome circle skirt + spinning combo and decided to ask for a dance. He said to me, "I like your dress!" and normally I would have corrected him, "It's actually a skirt.." but he was a very, very good dancer. And a very, very cute boy.
I wore that skirt almost every week, every single week of the semester. 'Cause I loved wearing that skirt and dancing with that boy. It was the highlight of my week, every week. It must have worked, because three months later that same boy needed a date and there I was - the nice Emily with the skirt. "The rest is history" is what you say, I guess.
We recently went to the BYU Big Band night on campus and I busted out the skirt once again. It has been just over two years since that first dance in Rexburg. Thank you skirt, you done good.
:)