"She just doesn't look like a photographer."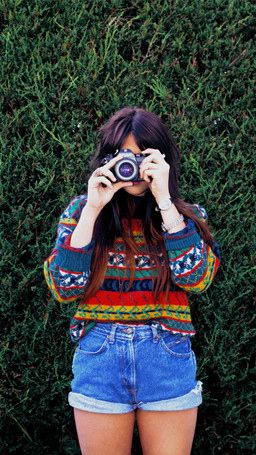 Although not said in a negative way, this comment (which was directed towards myself by a friend of a friend) has stayed with me. It has stayed with me because it reminds me of things I have thought myself. Being involved in art class since high school, I have always realized that I am not an "artsy" person. There were those weird artsy kids who draw anime and wear beanies with animal ears. There was the "really good photographer" but really just had a really nice camera compared to other 16-year-olds. Then in college there were those deep, intellectual artsy ones who were a little stuck-up and never smiled. The more art classes I took, especially in photography, the more I realized what kind of people were "photographers". And I wasn't one of them. While I could make friends and chat casually with people in my history, math, or English class, I have
rarely
even talked with those in my photography classes at college.
What I've gathered is that photographer = hipster.They wear vintage thrift store dresses, these
shoes
and the
biggest
,
baddest
glasses
ever. They are likely to be a vegetarian or something similarly healthy. Photographers wear red lipstick (females, at least). Their pictures are insanely trendy and candid. They definitely use VSCO Cam and a faux-filmy grain edit. Lots of bokeh and blank stares.
In a classroom full of these really attractive, trendy people.. I just feel so completely NOT a photographer. Once while shooting a wedding, the mother of the bride asked to her friend "I wonder where the photographer is?" while I was standing just a couple feet ahead of her with my camera. I am 5'2". My clothes are simple. I tried a sock bun once and it looked absolutely ridiculous. I like pictures that are bright and happy and natural. I wish I could end this with a big ol' "I'M DIFFERENT AND I LOVE IT!" monologue or something of that effect.. maybe some day. I'm not sure what my point is in all of this, except to not judge a book by its cover? Something like that.